Welcome to my Aeroponic Bucket Grow System!
I'm going to be fabricating a Aeroponic Bucket system that will incorperate 3, 5 Gallon grow chambers with another 5 Gallon grow resevoir for nutrients. The whole system will be placed to sit in a perfect square and take up most of the floor room growspace. I'm specifically only doing 3 grow pots with 1 nutrient res. because it fits the exact dimensions of a HOMEBOX SMALL, which I will be using for my grow tent (Not too big, not too small) The grow will be SCROG as to maximize space per bud production and the minimum plants I will be growing.
CONSTRUCTION:
Each 5 Gal. bucket will house a 6" Net pot lid, that will outfit 2, 180 Degree misters in each bucket. The misters will be placed opposite each other coming down from the top of the lid. Rubber gromets will be placed in the nutrient line wholes on the lid, and the nutrient line will slide right through for a snug, light tight fit. The misters will be attached to the other end, which will hang about 2.5-4" from the top of the lid as to fully cover the net pot as well as the newly developing roots below.
An air pump will be outtfitted to a 6" Bubble Stone that will sit at the bottom of the nutrient res. next to a 520 GPH Water pump w/ adjustable flow knob. The pumps outlet will have a backflow prevention socket, that will lead to the top of the res. lid where on the top of the lid on the outside will sit a Raindrip 8-Outlet 1/4" Dripper feed manifold. Each dripper distribution line is adjustable from 0-30PSI.
From there each distribution line will feed to the buckets misters.
PRE-BUILD QUESTIONS:
1.) I know that this is a "Dripper" manifold, so I'm wondering if I should go another route -- or just see how it works and adjust the pump/outlets accordingly?
The 8-Site manifold..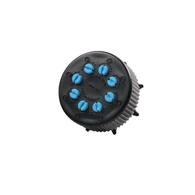 2.) I'm also curious as how I should handle the spent nutrient after it is sprayed to the roots? I'm assuming not every single drop can be absorbed in time before it pools at the bottom of the bucket. Should I re-route it someway back to my res. or have a drain that emptys into another container? How would I go about doing this?
I'm still waiting on a bunch of things to arrive in the mail, and will be picking up some key items tomorrow during my travels. I'll be updating this thread with updates, questions, and pictures!
ANY
Comments, questions, and/or criticisms are greatly appreciated!
Thanks for looking!